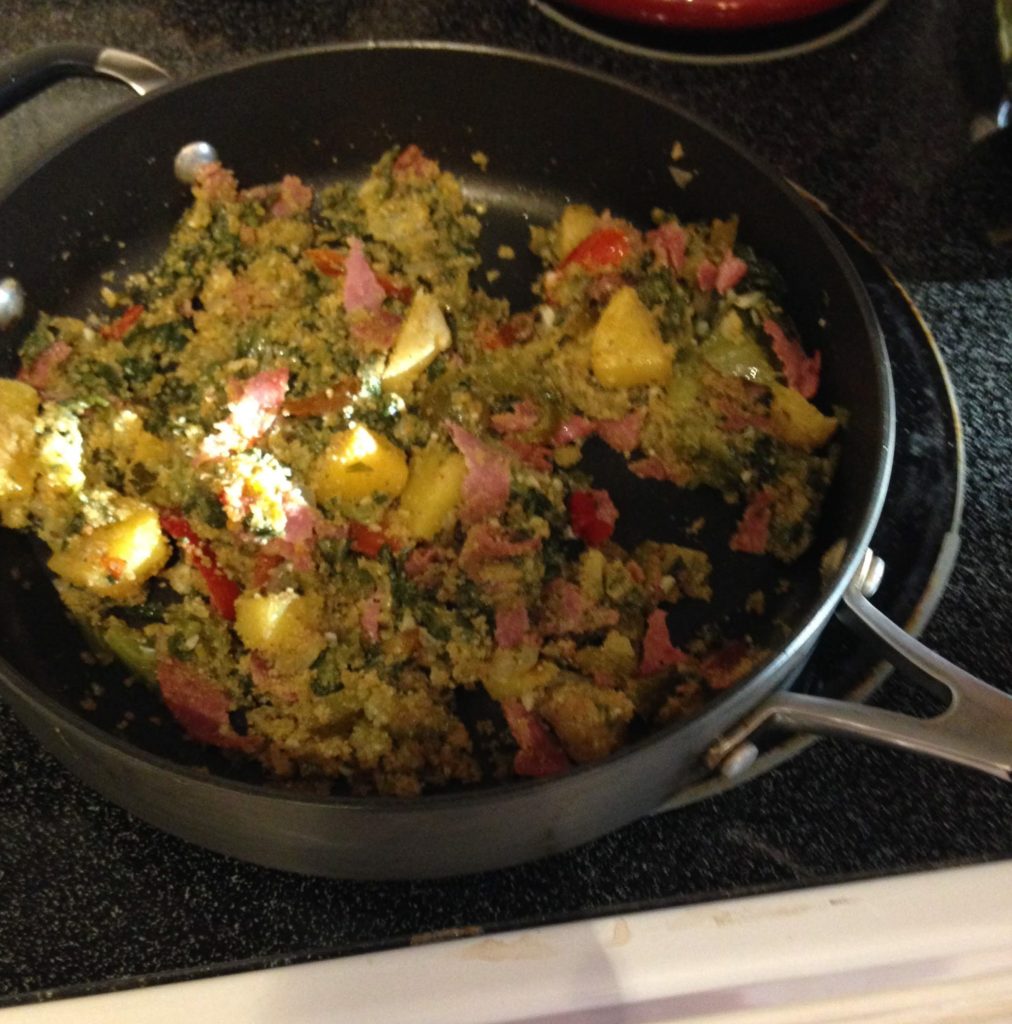 As a native Utican, I've tried my fair share of Utica Greens over the past 25 years, from restaurants in both the Utica and Rochester areas. I believe Georgio's Village Cafe in New Hartford makes the best, and this is my recipe that is as close to them as you can get:
The way I made the greens is really in three separate parts (the oreganato, potatoes, and greens themselves), then I assembled them right at the end. Obviously you can adjust the recipe any way you want (e.g., if you don't like potatoes, just skip that section).
1) The Oreganato:
1/2 cup extra-virgin olive oil
1 cup bread crumbs (I used Progresso Seasoned)
1/2 cup Parmigiano-Reggiano and/or Romano, grated (I used the Wegmans brand and got it grated)

Mix the oil, bread crumbs, and cheese until well blended. It should have the texture of moist beach sand. Set aside.
2) The Potatoes:
1 cup Yukon Gold potatoes, cut into 1" cubes
1/2 tsp. dried parsley (or 1 TBS fresh)
1/2 tsp. onion powder
1/2 tsp. garlic powder
1/2 tsp. paprika
salt
pepper
Preheat oven to 350 F. Toss in a bag with 1/4 cup oil, parsley, garlic and onion powders and paprika.
Roast for 1/2 hour. Add salt and pepper to taste. Set aside.
3) The Greens:
3-4 heads escarole
2 tbsp olive oil
1/2 chopped Vidalia onion
6 minced garlic cloves
8 oz. chicken or vegetable broth
Clean thoroughly as shown in this video
Follow this video to a tee, washing the escarole multiple times until the water is clear, then put it in a salad spinner.
In a large pan, sauté onions in 2 tbsp of olive oil until it gets a little brown (about 5 minutes). Add garlic and cook for another minute. Chopped and add escarole to the pan. Cook down (about 5 minutes). Add broth, cover, and simmer until broth is reduced (about 45 minutes). Use tongs to move escarole to a bowl. Set aside.
ASSEMBLY:
1/8 cup Parmigiano-Reggiano and/or Romano, grated
6 oz. thin sliced hard salami (optional)
3-5 thin sliced sweet or hot cherry peppers (optional)
1-2 thin sliced sweet bell peppers (optional). I used these (https://www.mezzetta.com/mm5/graphics/00000001/Deli-Sliced-Sweet-Bell-Pepper-Sandwich-Strips_lg_2.png)
banana peppers (optional)
In a large pan, combine salami, peppers, and potatoes. Cook at medium heat for 3-5 minutes. Add the greens you set aside. Add enough oreganato mix to cover the greens. Add cheese. Mix together in the pan. Transfer to a pan or baking sheet that can go in the oven and put under the broiler for about 2 minutes or until crisp. Serve.
On a side note, the oreganato recipe makes more than you'll likely need. The idea is to mix it in good with the greens. You can always add more. Same with the potatoes. I had maybe 1/4 of the diced potatoes left over. I may have just started with a bigger potato, so adjust accordingly.
The final product: