I'm a Utica native. Utica, NY is a relatively small city in Upstate, NY. With a population of only about 60,000 people, the city boasts quite a few attractions. For one, we have the F.X. Matt Brewing Company, where you can get your fix of Utica Club and Saranac beer. For another, we have the Utica Zoo, has over 200 animals patrons can visit. Turning Stone Casino is a short 20-minute drive away. I could go on and on about the delicious foods exclusive to or popularized by Utica (like Utica Greens). But arguably, the most notable attraction of Utica, NY is The Boilermaker.
The Boilermaker is a 15k road race that brings together 14,000-18,000 runners from around the world and what feels like even more spectators. The race got its start in 1978 when a local Utica business, Utica Radiator Corporation, was celebrating its 50th anniversary. Earle Reed, an avid runner, and whose family owned the business, decided to hold the event and name it after the Utica boilers his family's company produced. The first Boilermaker had 876 runners and is the only one in which Reed competed.
This race's route leads itself right past the street I grew up on. So for decades, I would walk down my street and watch all of the runners whiz by, handing them cups of water and encouraging them to keep going and finish. Granted, the fact that the race ends right at the F.X. Matt Brewery where cold beers await may well have been motivation enough. Regardless, it was fun to watch.
In my mid-20s, after getting in great shape from weightlifting, I thought it would be cool to make running the Boilermaker a bucket list item and cross it off. Why not? I'm a native Utican, and this race put Utica on the map. The event has existed all of my life, so I've never had a good excuse not to run it. And, by this point in my life, I've had numerous friends run it multiple times. So it was time for me to add a bit of cardio to my otherwise exclusively weight training workouts.
What's great was that my then girlfriend, now wife, was completely on board for Boilermaker training too–so we were able to support one another through the journey. In 2012, I began training on the elliptical machine in the gym, slowly increasing the duration, until I could complete 3.1 miles. At that point, I knew I could at least complete a third of the big race. I then began signing up for 5k road races, realizing that they would be more difficult than the elliptical machine (due to uneven terrain), but at least I knew I would be able to complete them. I never worried about how fast I could finish these races.
Here I am at some of those 5k races.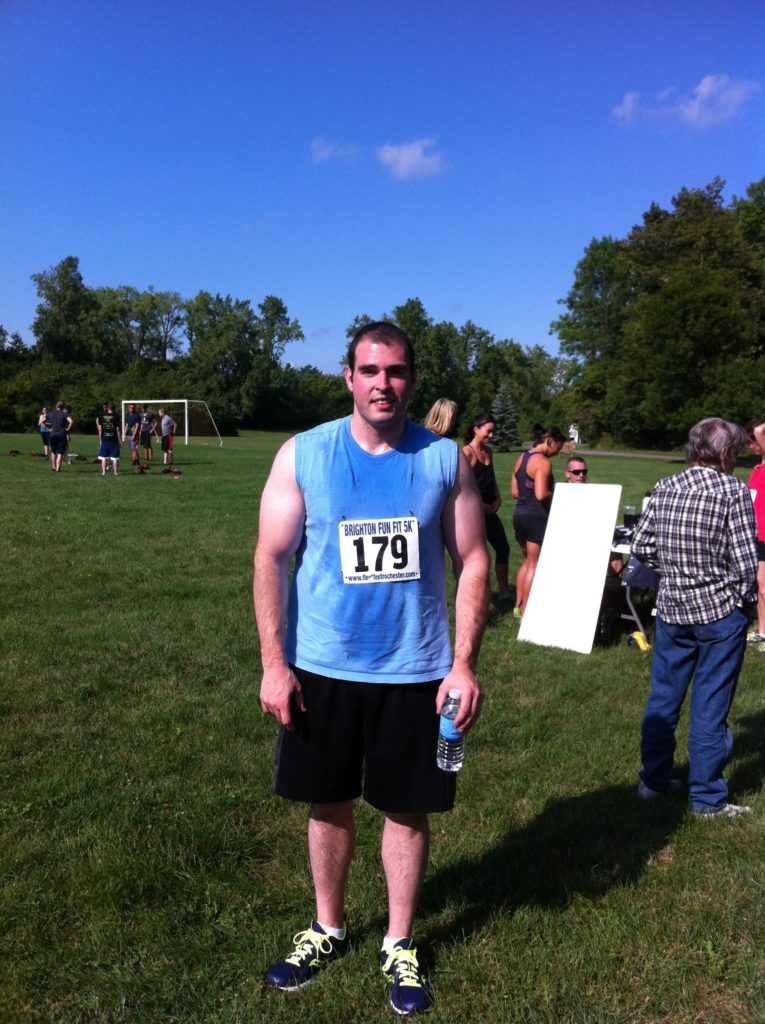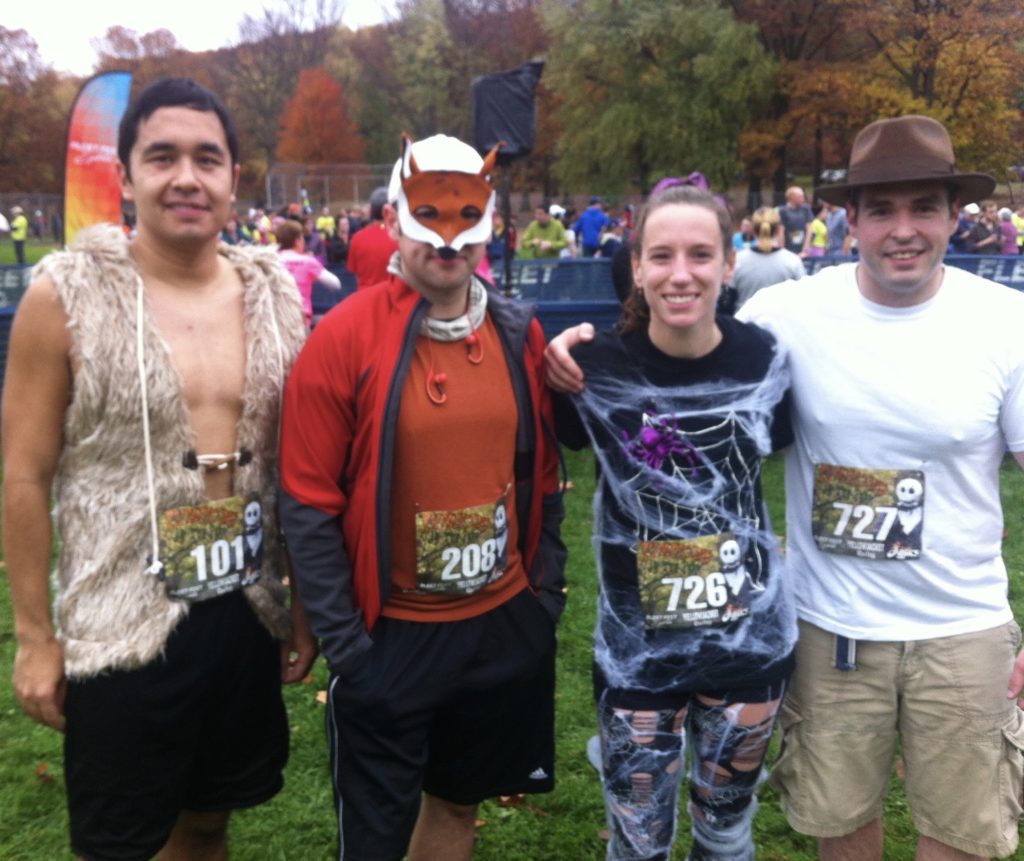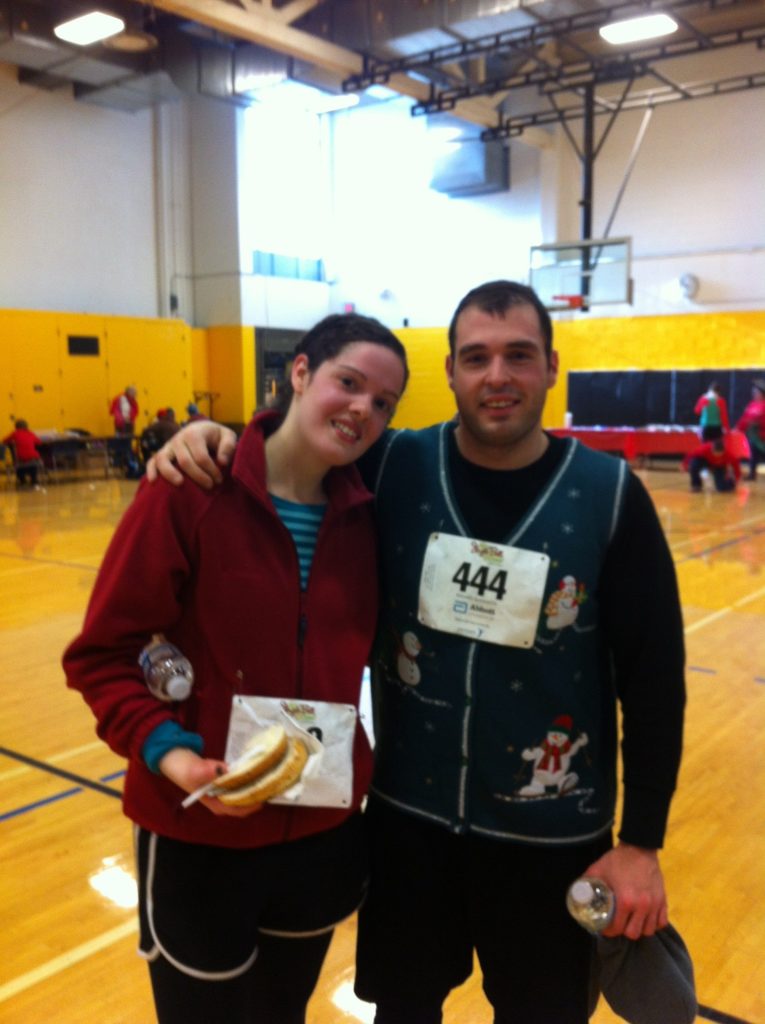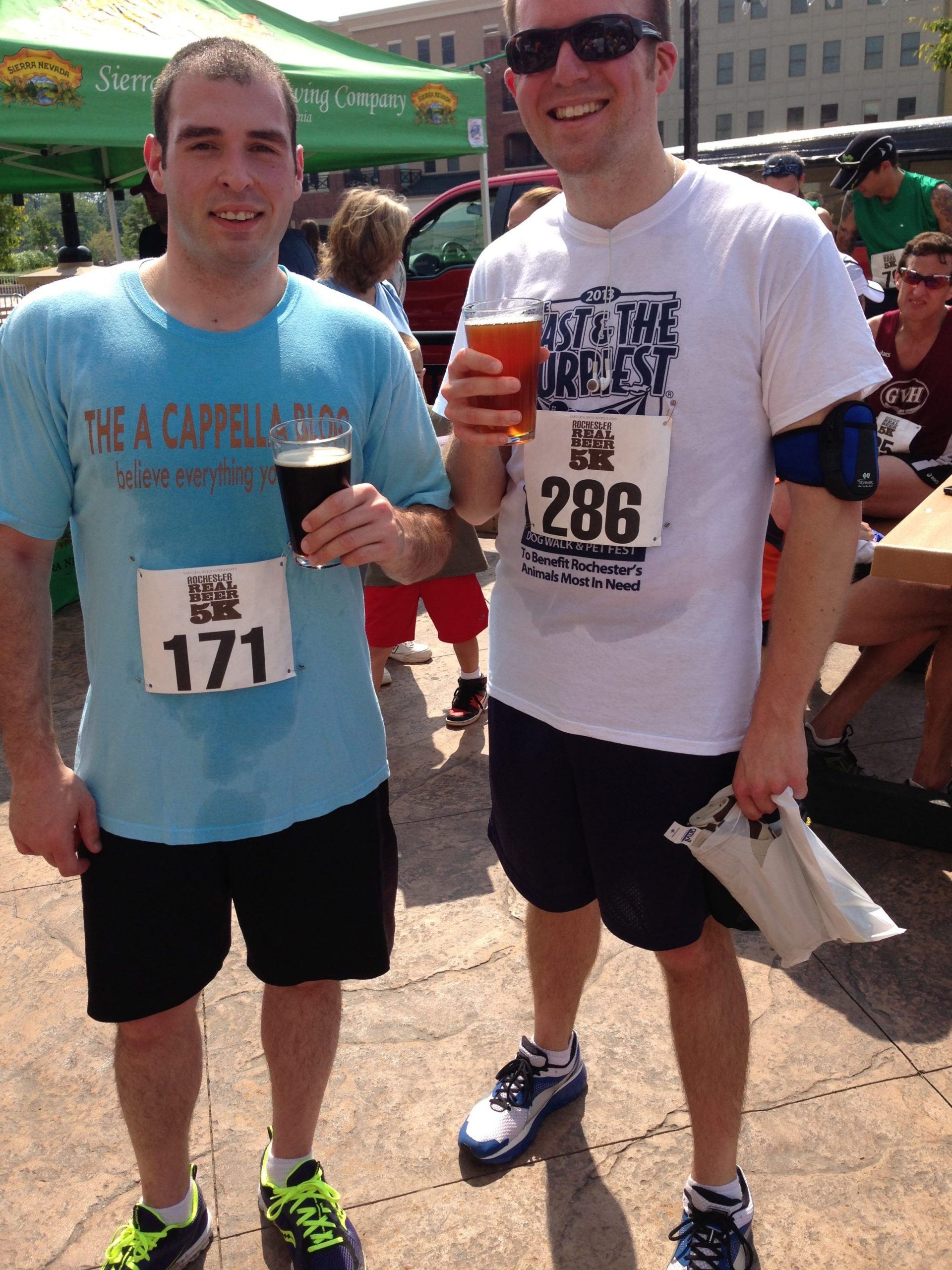 After successfully completing several of these 5k races in a variety of different weather conditions and locations, I became more confident in my running abilities. While I had only completed what amounts to a third of the distance of the Boilermaker, I signed up in January 2013 to run it in July of that year.
In the meantime, while I continued to run 5ks, I started to look at my times, and see how I was progressing since the distances were constant. Eventually, I began running longer distances on the elliptical machine in the gym, knowing that I would need to progress my distance if I was going to finish the big race.
The farthest I traveled on the elliptical machine in any one workout was 9.3 miles, the exact distance of the Boilermaker. Some might argue I should've surpassed the distance so that the actual race would be easier, but I was also told that the energy of the crowd the day of actually helps runners along a surprising amount–so I took my chances.
I should also mention that I had had shoulder surgery in May of 2013, three months prior to the race–so it was a bit challenging between my recovery from that + PT + training for the race. Suffice to say, I was just happy to be in a position to be able to train and run the race at all. I was just going to give it my best shot. I thought, if I succeed–great; if not–it was a hell of a journey.
As the date of the race approached, I looked for one more road race in late June 2013–ideally a 10k (6.2 miles). Unfortunately, there just wasn't one. The closest I found was the Firecracker 5 Mile, about a week before the Boilermaker, which was a little shy of the 6.2 miles I was hoping for. Oh well, I thought it was better than nothing. My wife and I finished without an issue. Granted, my time was not great, but that didn't bother me at all.
The following weekend arrived quickly. What excitement. It had been a while since I had dedicated myself so much to one thing. All of the training, all of the sweat, all of the pain (yeah, not gonna lie–there was pain with my shoulder, the running itself at times, etc.). I think the magnitude of the situation hit me when I went to pick up my running bib the day before the race. I realized there was no turning back.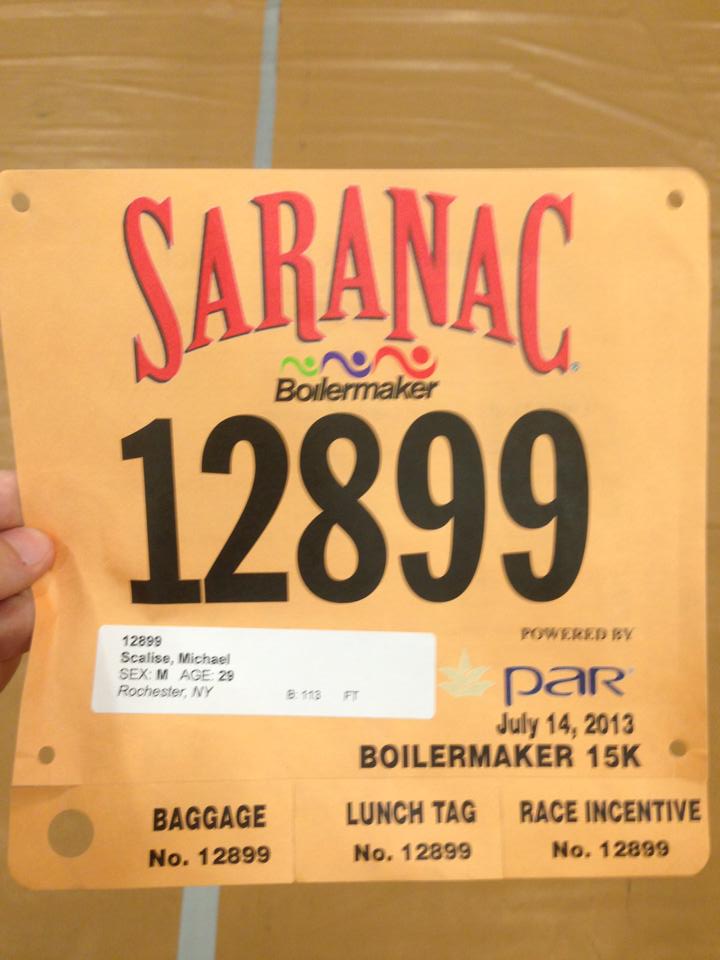 The next day, two of our friends, my wife, and I all got up at my parents house, made our way to the starting line, and prepared to accomplish all of this together. We all ran it, we all finished successfully, and we all celebrated the shit out of our accomplishment afterward with some great food, laughs, and people. Much like Earle Reed, this would our one and only Boilermaker (at least as of writing this nearly 8 years later). I don't know if I or we will ever run another, but I am happy for all of the preparation and determination we put in toward making this a reality. It was a significant accomplishment for us all.
Here we are celebrating afterwards.